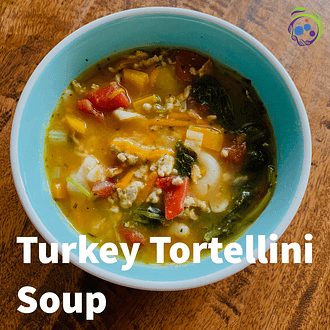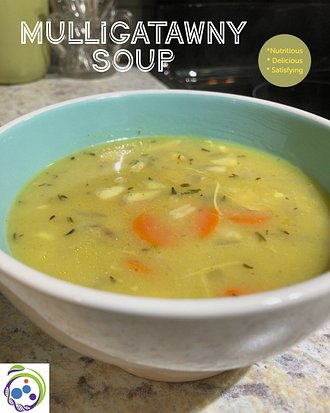 Ingredients:
1/2 cup diced onions
2 stalks of celery, chopped
1 carrot diced
1 Tbsp fresh chopped garlic
1 Tbsp fresh chopped ginger
1/4 cup butter
1/4 cup brown rice flour
11/2 tsp curry powder
1/2 tsp Himalayan salt or sea salt
Pepper to taste
4 cups of chicken stock
1 apple chopped
1/2 cup cooked brown rice
3 skinless chicken breasts or thighs cut into cubes
1/2 cup coconut milk
Fresh thyme
Ingredients:
1 lb ground turkey
1 medium onion, diced
4 garlic cloves, minced
2 stalks celery, diced
1 carrot, shredded
1 orange pepper, diced
1 bay leaf
2 tsp parsley
2 tsp basil


Directions:
1. Cook ground turkey and stir over medium heat until meat is no longer pink. Add celery, onion, garlic, bay leaf, parsley, basil, Italian, cayenne, salt and pepper and cook 5 minutes longer. Stir in the broth, water, Tabasco and tomatoes. Bring to a boil.
2. Add tortellini and return to a boil, turn down to medium and cook for 5-8 minutes or until almost tender, stirring occasionally. Reduce heat; add the baby kale and cook 2-3 minutes longer and tortellini are tender.

Optional: Garnish with Parmesan cheese.
2 tsp Italian
1/4 tsp cayenne
1 tsp Himalayan salt
1/2 tsp black pepper1 tsp Tabasco sauce
5 cups chicken broth
2 cups water
1 can (14-1/2 ounces) diced tomatoes, undrained
1 pkg (9 ounces) cheese tortellini
1 pkg (5 ounces) fresh baby kale, coarsely chopped
Directions:
1. Saute onion, celery, carrot and butter until tender.
2. Add flour and curry and cook for five minutes.
3. Add chicken stock, ginger, and garlic. Bring to a boil, reduce heat and simmer for 30 minutes.
4. Add apple, rice, cooked chicken, thyme and salt and pepper. Simmer for another 30 minutes.
5. Stir in coconut milk making sure it is well blended.