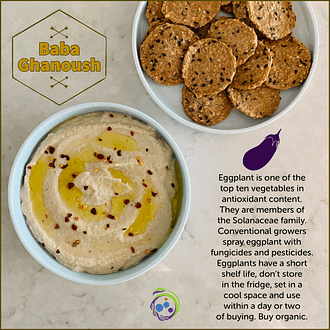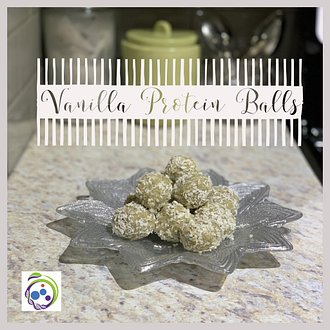 Organic Ingredients:
2 cups of almond flour
1/2 cup coconut oil, melted
2 Tbsp butter, melted
1 1/2 Tbsp organic maple syrup
1/4 tsp vanilla extract
1/8 tsp almond extract
1/4 tsp cardamom
1 scoop of vanilla protein powder (optional) I used Vega 1 Vanilla

Toppings: Shredded coconut, cacao powder, crushed nuts.
Organic Ingredients:
1 large eggplant
¼ cup tahini
3-4 Tbsp lemon juice
2 garlic cloves
¼ tsp Himalayan salt

Instructions:
1. Preheat oven to 400° F degrees.
2. Wrap eggplant in foil and roast for 45-60 minutes until the eggplant is soft when poked with a knife. Unwrap the eggplant and allow it to cool for 10 minutes.
3. When the eggplant is cool to the touch, cut off the top and peel off the skin. Discard the skin and seeds, keeping only the flesh of the eggplant.
4. Place the flesh of the eggplant in a food processor or blender. Add the lemon juice, tahini, garlic cloves and salt. Blend for 1 minute until the mixture is smooth and creamy.
Garnish suggestions:
Olive oil, parsley, pomegranate, red Chili flakes
Directions:
1. If using protein powder, mix thoroughly with almond flour in a medium size bowl.
2. Add cardamom and salt. Slowly mix in melted coconut oil and melted butter.
3. Add vanilla extract, almond extract and maple syrup then mix well.
4. Allow the mixture to set and firm in the fridge or freezer (10 minutes).
5. Roll mixture into uniform balls. Finish with your favourite toppings. Will keep in the fridge for up to 3 days.