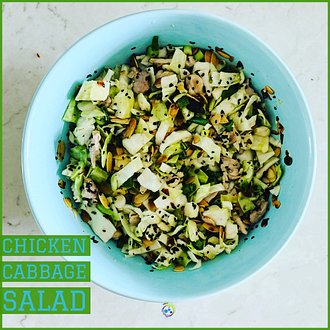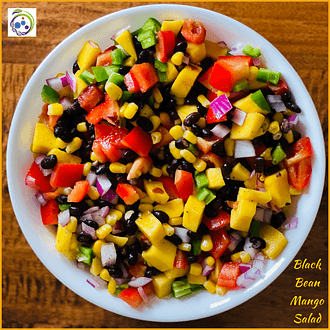 Black Bean Mango Salad with Zesty Lime Vinaigrette
Organic Black Bean Mango Salad Ingredients:
2 medium or 3 Ataulfo ripe mangoes, peeled and diced
1 large red bell pepper, diced
1 cup cooked kernel corn (frozen or fresh)
1 can 15 -19 oz can black beans, rinsed and drained
1/2 cup red onion, diced
1/3 cup Non-dairy milk

Optional: If you like some heat - 1 Jalapeno pepper, diced and 1/4 cup fresh cilantro, finely chopped
Directions:
1. In a large bowl, add mango, bell pepper, corn, black beans, red onion, olive oil, lime juice, cumin, salt, pepper, and Chili pepper flakes.
2. Gently stir to combine. If you have time, allow flavours to enhance in the fridge for a few hours.
Note:
1. The healthiest canned beans are organic and in BPA free cans.
2. Avoid buying very soft mango for salad as it will become mushy. Ataulfo are smaller and sweeter than regular mangoes.
Zesty Lime Vinaigrette Ingredients:
1/4 cup fresh squeezed lime juice
Zest of one lime
2 Tbsp avocado or extra virgin olive oil
2 tsp Monk fruit sweetener
1/2 tsp cumin, ground
1/4 tsp Himalayan salt and black pepper
1/4 - 1/2 tsp red Chili pepper flakes
Ingredients:
3 medium size beets, washed and trimmed
3 Tbsp lemon juice, fresh squeezed
2 Tbsp extra-virgin olive oil
1 Tbsp balsamic vinegar
1 Tbsp Dijon mustard
Himalayan salt and ground black pepper to taste
3 garlic cloves, minced
1/2 red onion, thinly sliced
1 avocado, peeled, pitted, and cut into bite-size pieces
1/2 cup crumbled goat feta cheese
1 cup or more baby spinach leaves
1/2 cup walnuts, chopped
Directions:
1. Place beets into a large pot and cover with water; bring to a boil.
2. Reduce heat to medium-low and simmer until tender when pierced with a fork, about 1 hour.
3. Drain and cool until beets can be easily handled. Peel beets, cut into cubes, and place in a bowl; refrigerate until chilled, about 15 minutes.
4. Whisk lemon juice, olive oil, balsamic vinegar, mustard, salt, pepper, and garlic together in a large bowl until smooth.
5. Add beets, spinach, onion, avocado, and feta cheese; toss.

Note: I use disposable gloves when peeling and cutting the beets. Can also roast the beets in the oven.
Ingredients:
2 Tbsp Avocado oil, divided
3 garlic cloves, minced
2 tsps, fresh ginger paste
1/2 large onion, diced
1 lb boneless, skinless chicken thighs or breasts, cut in bite size pieces (free from hormones & antibiotics)
4 1/2 - 5 cups of cabbage, shredded
1/2 large bell pepper, diced
1 cup green beans, chopped in small pieces (can also use alternative veggies)
1/4 cup coconut aminos (can use teriyaki sauce)
Himalayan salt and black pepper to taste
4 green onions, chopped
Optional: Sweet Chili Sauce, drizzle over chicken and cabbage dish before serving.
Directions:
1. Heat one tablespoon of Avocado oil in a large skillet over medium heat. Add garlic, ginger and onion and cook for one minute.
2. Increase heat to medium-high. Add remaining oil and the chicken cooking for five minutes.
3. Add cabbage, green beans, bell pepper, salt, pepper and coconut aminos.
4. Continue to cook until the chicken and cabbage are tender. Garnish with chives.
Healthy Chicken and Cabbage Dish