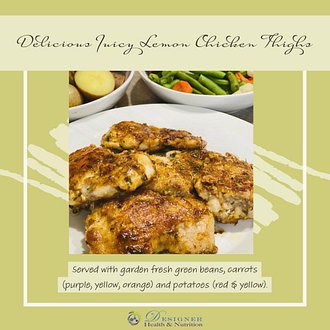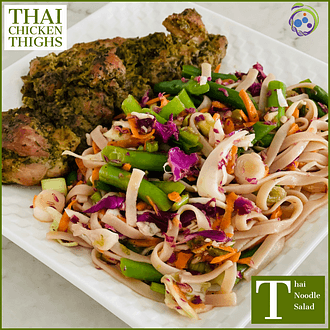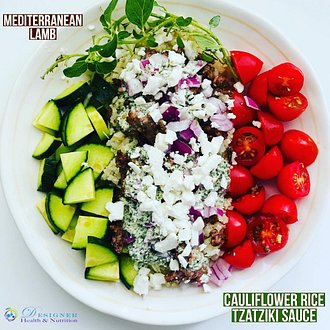 Salad Ingredients:
1 cup fresh green beans, trimmed
1 pkg 227 g Brown Pad Thai Rice Noodles (Lotus Foods)
2 cups, mixed grated carrots, green & purple cabbage
(I grated my own to make 2 cups) 1/2 cup red pepper, slivered
1 cup green onions, sliced
Vinaigrette Ingredients:
1/4 cup fresh squeezed lime juice
3 Tbsp avocado oil
2 Tbsp coconut sugar
1 Tbsp sesame oil
1 Tbsp garlic, minced
1 Tbsp grated lime zest
1 Tbsp jalapeno pepper, 1 Tsp Himalayan salt and black pepper to taste
Directions: Whisk ingredients together and set aside.
Thai Chicken Marinade
Wow, the flavours of fresh herbs in this recipe is amazing!
1/3 cup fresh basil, chopped
1/3 cup fresh mint, chopped
1/3 cup fresh cilantro, chopped 3 Tbsp peeled, chopped ginger 3-4 garlic cloves, minced
1 1/2 Tbsp soy sauce
1 1/2 Tbsp avocado oil
1 1/2 Tbsp coconut sugar
1 Anaheim pepper, chopped

Other: 8 skinless, boneless chicken thighs (free from hormones, and anti-biotic)

Directions:
1. Prepare marinade and blend in a vitamin or blender (look like pesto)
2. Arrange chicken thighs in a large freezer bag and pour in you marinade making sure thighs
are completely covered. Let sit overnight in refrigerator.
3. Next day, bake at 375 degrees until browned and cooked approximately 45-50 minutes.
4. Serve chicken thighs with Thai Noodle Salad.
3. Combine noodles, green beans, and vinaigrette together, cover and refrigerate at least two hours or overnight.
4. Serve with Thai Chicken.
Mediterranean Lamb & Tzatziki Sauce
Ingredients:
1 lb (454 grams) of free-from ground lamb
2 large garlic cloves, minced
2 tsp fresh Thyme
2 tsp fresh Oregano
Himalayan salt and black pepper to taste
2 cups cauliflower rice
2/3 cup red onion, diced
Grape tomatoes, halved
Cucumber, sliced
1/2 cup goat and sheep feta

Directions:
1. Heat one tablespoon of Avocado oil in a large skillet over medium heat. Add garlic, ginger and onion and cook for one minute.
2. Increase heat to medium-high. Add remaining oil and the chicken cooking for five minutes.
3. Add cabbage, green beans, bell pepper, salt, pepper and coconut aminos.
4. Continue to cook until the chicken and cabbage are tender. Garnish with chives.
Thai Chicken Thighs & Thai Noodle Salad
Directions:
1. Cut green beans diagonally into 1/2 inch pieces. Cook in salted water until tender-crisp. Plunge into cold water to retain colour. Drain and set aside.
2. Cook noodles according to package directions (approximately 5 mins) drain and set aside.
Delicious Juicy Lemon Chicken Thighs
Ingredients:
6 boneless skinless chicken thighs (free from hormones & antibiotics)
Himalayan salt & fresh ground black pepper
1 cup flour, for coating chicken thighs
1 tsp garlic powder
1 tsp onion powder
1/4 cup unsalted butter + 2 Tbsp
1/4 cup fresh lemon juice
1/2 Cup chicken stock
1/3 Cup fresh parsley, chopped
Directions:
1. Add salt, pepper, onion and garlic powder to flour, and stir to combine. Coat chicken thighs one at a time, then shake off excess flour.
2. In a large skillet over medium-high heat, melt butter. When the butter starts sizzling, add chicken pieces and cook for 4 minutes. Flip and cook the other side for 4 minutes when the chicken is browned. Remove chicken thighs and transfer to a plate.
3. Add the lemon juice and stock into the pan and boil, scraping brown bits from the pan for extra flavour. Check for seasoning. Return all the chicken thighs to the pan and simmer for 5 minutes. The temperature for chicken is 165 degrees F.
4. Remove the chicken from the platter. Add remaining 2 Tbs butter and parsley to the sauce and whisk vigorously. Pour sauce over the chicken. Enjoy!