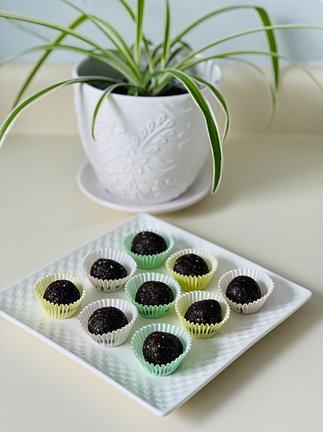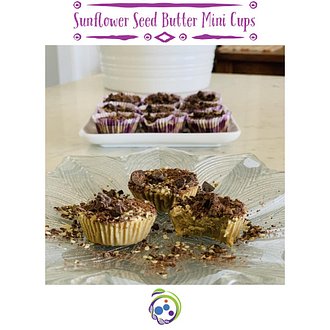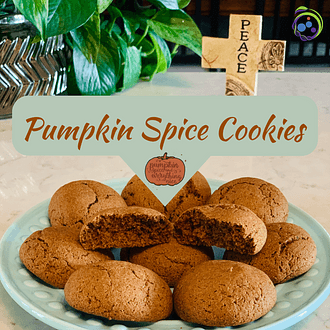 Organic Ingredients:
3 Tbsp virgin coconut oil, softened
1/2 cup coconut sugar
1/3 cup pumpkin purée
1/2 tsp pure vanilla extract
2 tsp ground cinnamon
2 tsp ground flax
3/4 tsp ground ginger
1/2 tsp ground nutmeg
1/8 tsp ground cloves
1/8 tsp ground cardamom
1/4 tsp Himalayan salt
1/2 tsp baking soda
1 cup light spelt flour
Directions:
1. Preheat oven to 350 degrees and line a baking sheet with parchment paper.
2. In a medium size bowl, using electric beaters, beat together the coconut oil, sugar, pumpkin, and vanilla until smooth.
3. Add the cinnamon, ground flax, ginger, nutmeg, cloves, cardamom, salt and baking soda. Beat until combined. Add the flour and beat again until well mixed. The dough should be moist and easy to roll into balls.
4. Using 2 tablespoons of dough for each cookie (makes 9) shape into a round ball - do not flatten! Place onto baking sheet ensuring they are well spaced out.
5. Bake approximately 12-14 minutes until the cookies have puffed up.
6. Let cool on the pan for 5 minutes before transferring to a cooling rack.
7. Enjoy, they are so delicious!
Sunflower Seed Butter Mini Cups
Note: These treats melt fast when at room temperature. Makes 12 mini cups.
Ingredients:
1 cup raw pecans (or walnuts)
1 cup packed pitted Medjool dates
3 Tbsp unsweetened cocoa powder
2 Tbsp hemp seeds
1/8 tsp Himalayan salt
1 tsp vanilla
1 drop Young Living Peppermint Food Grade Essential Oil or 1/4 tsp Peppermint Extract
Directions:
1. Place pecans and dates into a food processor. Process for about 1 minute or until pecans and dates mix well. Pecans should be slightly chunky.
2. Add the remaining ingredients: cocoa powder, vanilla extract, peppermint, salt and hemp seeds. Pulse until a dough forms. The dough texture should be thick and clumpy and come together into a ball. If it isn't, add 1 or 2 tablespoons of warm water.
3. Fill a tablespoon of mixture and then roll into a ball. Place onto a small baking sheet lined with parchment paper. Repeat until all the mixture is gone—place in the fridge for 30 minutes to allow balls to chill and harden.
4. After chilling the balls, transfer them to an airtight container and store them in the fridge. Trust me; these won't last long.
Healthy Chocolate Peppermint No-Bake Energy Balls
Ingredients:
½ cup Sunflower Seed Butter
2 Tbsp coconut oil, room temperature
2 Tbsp honey
2 Tbsp dark chocolate chips, chopped
1 Tbsp hemp hearts
Directions:
1. Make sure the coconut oil is liquid at room temperature prior to mixing with sunflower seed butter, then mix together.
2. Stir in honey and mix it well. Pour into a mini mold or mini baking cups.
3. Sprinkle with chopped chocolate chips and hemp hearts.
4. Place in freezer for thirty minutes before eating and keep them stored in the freezer.