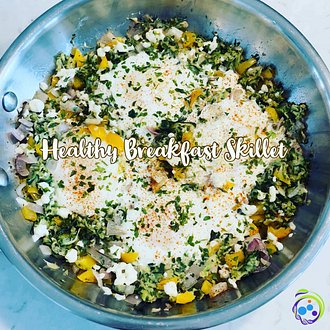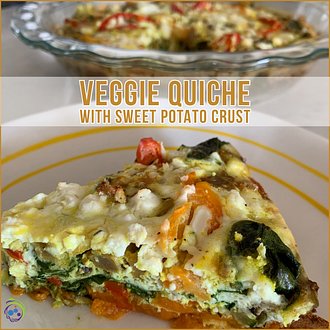 Veggie Quiche with Sweet Potato Crust
Ingredients:
Avocado Oil to coat pan
Sweet potato - 1 large
6 large Eggs
1 tsp of Turmeric
1/2 tsp Italian, basil or your favourite herbs
1/3 cup Non-dairy milk
Veggies suggestions: onions, red peppers, spinach, zucchini, mushrooms, tomato
1/2 cup Goat cheese
Himalayan salt and black pepper
Directions:
1. Cut a large sweet potato into 1/8 inch slices so that they cook through well.
2. Preheat oven to 375 degrees F. Grease a 9-inch pie pan with oil.
3. Add your sweet potato slices all around the base. Cut some in half if you need them to fit on the sides.
4. Coat the sweet potatoes with additional oil. Bake for 20 minutes. Once done, remove from oven and allow to cool for 5 minutes.Keep heat in oven. Then the sweet potato crust is ready for the filling!
5. While sweet potato crust is baking, cook the veggies: Add oil to a medium skillet and place over medium high heat. Add in vegetables, saute for a few minutes. Then add spinach and saute for another minute. Remove from heat and set aside to cool.
6. In a medium bowl, whisk together eggs, non-dairy milk, salt and pepper.
7. Add vegetable mixture over the baked sweet potato crust, then pour egg mixture over the top. Sprinkle goat cheese crumbles and optional (Sliced banana peppers).
8. Bake for 30 minutes or until egg sets and puffs up. Remove from heat and allow to cool for a few minutes before cutting into slices. Quiche should be stored covered in the fridge for 5-7 days.

Optional: Just before serving, drizzle with sriracha and garlic aioli.
Healthy Breakfast Skillet
Ingredients:
2 Tbsp butter
1 cup shredded zucchini
1/2 yellow pepper, diced
1 large shallot, diced
2 garlic cloves, minced
1 tsp Italian
1 tsp parsley
1/2 cup goat feta, crumbled
4 large free-run eggs
Himalayan Salt and ground black pepper to taste
Optional: Hot sauce, green onions, sliced, smoked paprika,
Directions:
1. In a medium-large skillet, add butter over medium heat. Once hot, add the veggie mixture, Italian and parsley seasoning, salt and pepper. Let the mixture cook for 3-4 minutes without stirring so the vegetables start to brown a bit.
2. Stir vegetables and continue to cook until they are crispy in parts around the edges.
3. Make four holes in the zucchini mixture for eggs. Crack in the eggs and sprinkle feta cheese over the whole skillet.
4. Cook eggs for about two minutes until the whites are mostly set. Then cover the skillet with a lid and steam the eggs for 30 seconds just to set the whites on top for sunny side up eggs.